Area: 56,977 mi²

Bangladesh is the fifth-most populous in Asia and the third-most populous Muslim-majority country. The official Bengali language is the seventh-most spoken language in the world, which Bangladesh shares with the neighboring Indian states of West Bengal, Tripura and Assam.
Three of Asia's largest rivers, the Ganges (locally known as the Padma), the Brahmaputra (locally known as the Jamuna) and the Meghna, flow through Bangladesh and form the fertile Bengal delta—the largest delta in the world. With rich biodiversity, Bangladesh is home to 700 rivers, most of the world's largest mangrove forest; rainforested and tea-growing highlands; a 600 km (370 mi) coastline with the world's longest beach; and various islands, including a coral reef. Greater Bengal was known to the ancient Greeks and Romans as Gangaridai. The people of the delta developed their own language, script, literature, music, art and architecture. Early Asian literature described the region as a seafaring power. It was an important entrepot of the historic Silk Road.

Currency
The Bangladeshi taka is the official currency of the People's Republic of Bangladesh. Issuance of banknotes ৳10 and larger is controlled by Bangladesh Bank, and for the ৳1, ৳2 and ৳5 banknotes, which are the responsibility of the Ministry of Finance of the government of Bangladesh. The most commonly used symbol for the taka is "৳" and "Tk", used on receipts while purchasing goods and services. ৳1 is subdivided into 100 poisha.
The word taka in Bangla is also commonly used generically to mean any money, currency, or notes. Thus, colloquially, a person speaking Bangla may use "taka" to refer to money regardless of what currency it is denominated in. This is common in the Indian state of West Bengal and Tripura, where the official name of the Indian rupees is "taka" as well.

Climate
Bangladesh has a subtropical monsoon climate characterized by wide seasonal variations in rainfall, high temperatures and humidity. There are three distinct seasons in Bangladesh: a hot, humid summer from March to June; a cool, rainy monsoon season from June to October; and a cool, dry winter from October to March. In general, maximum summer temperatures range between 30°C and 40°C. April is the warmest month in most parts of the country. January is the coldest month, when the average temperature for most of the country is about 10°C.

Language
Bangla (Bengali) being the sole official language, English is sometimes used secondarily for official purposes, especially in the judiciary. More than 98% of Bangladeshis speak Bangla as their native language. English is also used as a second language among the middle and upper classes and is also widely used in higher education and the legal system. Historically, laws were written in English and were not translated into Bangla until 1987. Bangladesh's Constitution and all laws are now in both English and Bangla. Stranded Pakistani Biharis since 1971 living in various camps in Bangladesh speak Urdu. Similarly, Rohingya Refugees from Burma since 1978 living in various camps in Bangladesh speak Rohingya. There are also several indigenous minority languages.

Economy
Bangladesh is a developing country, with a market-based mixed economy and is listed as one of the Next Eleven emerging markets. The per capita income of Bangladesh was US$1,190 in 2014, with a GDP of US$209 billion. In South Asia, Bangladesh has the third-largest economy after those of India and Pakistan, and has the second highest foreign exchange reserves after India. The Bangladeshi diaspora contributed US$15.31 billion in remittances in 2015.
In the early five years of independence, Bangladesh adopted socialist policies which proved to be a critical blunder by the Awami League. The subsequent military regime and BNP and Jatiya Party governments restored free markets and promoted the Bangladeshi private sector. In 1991, finance minister Saifur Rahman launched a range of liberal reforms. The Bangladeshi private sector has since rapidly expanded, with numerous conglomerates now driving the economy. Major industries include textiles, pharmaceuticals, shipbuilding, steel, electronics, energy, construction materials, chemicals, ceramics, food processing, and leather goods.
The insufficient power supply is a significant obstacle to growth. According to the World Bank, poor governance, corruption and weak public institutions are major challenges for Bangladesh's development. In April 2010, Standard & Poor's awarded Bangladesh a BB- long term credit rating, which is below India and well above Pakistan and Sri Lanka.

Safety
Bangladesh is a country full of friendly and open minded people. But being a poor country with a high poverty rate, there are some impoverished or bad-natured people who may find ways to exploit a foreigner/tourist. Please stick to common sense precautions, such as not walking around unnecessarily or alone after dark. Also, if you do find yourself in trouble, create some noise and draw the attention of others who are almost certain to come to your aid. Foreigners, particularly Caucasian, will for the most part will be safe when walking around city streets as you will undoubtedly be watched by multiple curious locals at any one time. When travelling by rickshaw, CNG (auto-rickshaw) or bus, be careful to keep valuables close at hand. Don't wear expensive jewellery without precaution; most middle-class locals now simply wear imitation gold/silver and rhinestones/clay and beaded pendants.
Phone snatching is very common in Bangladesh. Don't exhibit your costly mobiles on the roads. Be careful in auto's also. Even the auto's are covered with iron grills, still many chances for cutting the side covers and pulling the valuables is common practice by the chain snatchers.
It's best to not eat, drink or smoke anything offered to you by strangers – there's a growing problem in many Asian countries of drugging, and you're likely to see signs warning you against it on buses, trains, etc.

Health
Bottled water is recommended, as the tap water is often unsafe for foreign stomachs, and some hand-drawn tube wells are contaminated with naturally occurring arsenic. This will easily pass through filters designed only to screen out bacteria. A more environmentally friendly option is to boil your own water, or use purifying tablets. However, nothing short of distillation will remove arsenic.
It's also wise to use discretion when eating from street vendors – make sure it's freshly cooked and hot.
Mosquitoes can be abundant in some areas and cities, especially during the rainy and humid seasons, and nets covering your bed at night are often provided, even in some of the cheapest hotels and in all households.
Consult your travel doctor about precautions against malaria and typhoid fever. Get vaccinated and take preventive and curative medication with you before you go.
Pollution can be a problem, and in some of the cities like Dhaka and Chittagong you may wish you'd brought along an oxygen tank. While some effort has been shown recently to clean up the country such as the banning of plastic bags, there's still a long way to go and most people use the many waterways as garbage dumps – it would be unwise to swim in most of the rivers and downright senseless in a lake.

Education
Bangladesh has a low literacy rate, estimated at 66.5% for males and 63.1% for females in 2014. The educational system in Bangladesh is three-tiered and highly subsidized. The government operates many schools in the primary, secondary, and higher secondary levels. It subsidises parts of the funding for many private schools. In the tertiary education sector, the government funds more than 15 state universities through the University Grants Commission.
The education system is divided into five levels: Primary (from grades 1 to 5), Junior Secondary (from grades 6 to 8), Secondary (from grades 9 to 10), Higher Secondary (from grades 11 to 12) and tertiary. The five years of lower secondary education concluded with a Secondary School Certificate (SSC) examination, but since 2009 it concludes with a Primary Education Closing (PEC) examination. Earlier, students who pass this examination proceed to four years secondary or matriculation training, which culminate in a Secondary School Certificate (SSC) Examination.
Universities in Bangladesh are mainly categorized into three types: public (government owned and subsidized), private (private sector owned universities) and international (operated and funded by international organizations). Bangladesh has 34 public, 64 private and two international universities. Bangladeshi universities are accredited by and affiliated with the University Grants Commission (UGC), created according to the Presidential Order (P.O. No 10 of 1973) of the government of the People's Republic of Bangladesh. Medical education is provided by 29 government and some other private medical colleges. All medical colleges are affiliated with Ministry of Health and Family Welfare.

Cuisine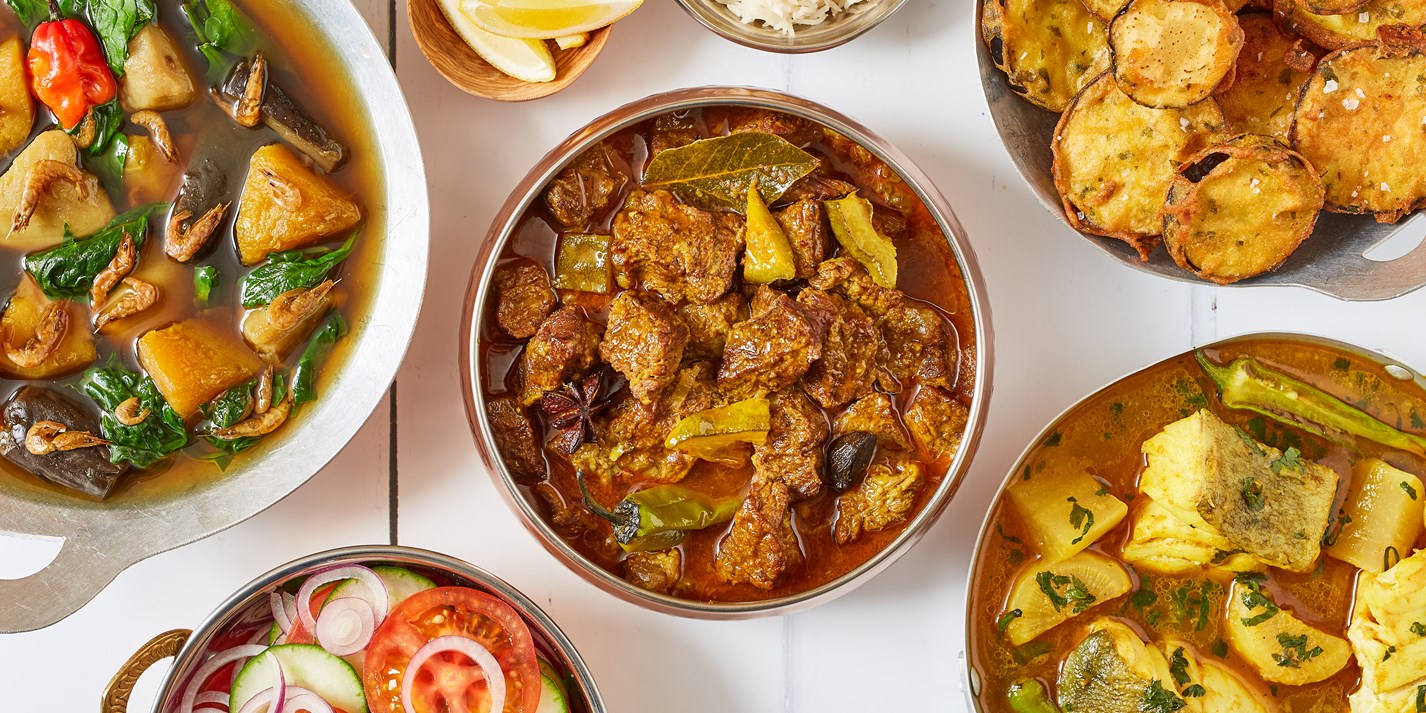 White rice is the staple of Bangladeshi cuisine, along with many vegetables and lentils. Rice preparations also include Bengali biryanis, pulaos, and khichuris. Mustard sauce, ghee, sunflower oil and fruit chutneys are widely used in Bangladeshi cooking. Fish is the main source of protein in Bengali cuisine. The Hilsa is the national fish and immensely popular across Bangladesh. Other fishes eaten include rohu, butterfish, catfish, tilapia and barramundi. Fish eggs are a gourmet delicacy. Seafood holds an important place in Bengali cuisine, especially lobsters, shrimps and dried fish. Meat consumption includes chicken, beef, mutton, venison, duck and squab. In Chittagong, Mezban feasts are a popular tradition featuring the serving of hot beef curry. In Sylhet, the shatkora lemons are used to marinate dishes. In the tribal Hill Tracts, bamboo shoot cooking is prevalent. Bangladesh has a vast spread of desserts, including distinctive sweets like Rôshogolla, Rôshomalai, Chomchom, Mishti Doi and Kalojaam. Pithas are traditional boiled desserts made with rice or fruits. Halwa is served during religious festivities. Naan, paratha, luchi and bakarkhani are the main local breads. Black tea is offered to guests as a gesture of welcome. Kebabs are widely popular across Bangladesh, particularly seekh kebabs, chicken tikka and shashliks.

Government
The politics of Bangladesh takes place in the framework of a multiparty parliamentary representative democracy, modeled on the Westminster system of unicameral parliamentary government. Traditionally, Bangladesh has been a two party system since democracy was restored in 1990. However, concerns over the fairness of elections and annulment of the caretaker government system led to a boycott of the national election in 2014 by major opposition parties. Critics have accused the government of trying to turn Bangladesh into a dominant party state under the ruling Awami League.

Transport
Air travel in Bangladesh is very affordable and convenient. As with most flights, the earlier you book, the better your fare. Flight time is nearly always less than 1 hour, but can save many hours of tedious and dangerous road travel. Dhaka's domestic terminal lies next to the International Terminals, within easy walking distance. Check in normally is open from 60 until 30 minutes before departure. The terminal is small, and with few diversions, so don't arrive too early.
There are quite a few rotor-wing craft services available for hire in Bangladesh for tourism, MEDEVAC or Film-footage services. Any reputable travel agent will know full details. As of now – one service "ATL" is at, ATL or at ATL.
Local Bangladeshi buses are generally crowded, often to the extent of people riding on the bus steps (entrance) and sometimes even the roof. The state run Bangladesh Road Transport Corporation [35] (BRTC) buses usually fall into this category. Avoid all of the low cost buses – they are easy to spot by their poor condition. There are daily fatal accidents involving them. If you do use them, it is worth noting that they do not usually stop, but rather slow down slightly to let passengers on or off. Additionally, fare collectors, disconcertingly, do not wear uniform making them difficult to identify. If you do not speak the language you may have to simply jump on the bus (literally) and give money to the first person who asks you.
Bangladesh Railways [40] is the state and only train operator. The ticket prices are reasonable and usually similar to bus ticket prices and sometimes even cheaper. However, due to the roundabout routes and tricky river crossings, the journey durations are usually much longer. Tickets can be booked over the phone, though unless you speak Bengali you're likely to get better results at one of the computerized station booking offices.
There are over 230 mighty and small rivers throughout the country, and boats and ferries are an integral part of travel for locals and tourists alike. A journey along the river in any mode is probably the best way to see Bangladesh. There are a number of private tour operators offering river sightseeing trips of various lengths, or using the ferries to get between cities is a great way to see the country at a moderate pace.